Winter Range is going on as those of us in the Northern climes are still dealing with winter. Michael Bane has been all over the match with results of the
Wild Bunch Match
(Congrats Doc Molar & Two Sons) as well as
pictures
and
blogging
from the main match.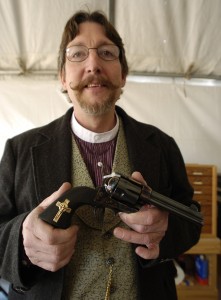 Some of the fun of going to a larger match is the vendors and Michael points out someone who I'd not heard of before, Joe Perkins of
Outlaw Grips
.  Joe was showing off the "Hand of God" grips those of you who've seen the modern remake of 3:10 to Yuma should recognize.  They make some very fine grips for Single-Action revolvers and even to inlays of Silver.  I'm kind of drooling over the bloodwood grips myself.